Types of Stay | Corporate Apartments
Central locations, comfort and space - corporate apartments done differently
LIVE IN THE CITY, WORK IN THE CITY
Are you a travel manager? Relocation specialist? HR manager? Or booking business stays for yourself? From corporate lets to contractor accommodation - we have serviced apartments to make you, or whoever you're booking for, feel at home whilst working away. Built with Work/Life balance in mind, our central and commuter locations in cities and towns like London, Manchester and Reading, offer easy access to business destinations and comfortable spaces to come home to - or to work from home in. With dedicated corporate booking and account management teams, we'll can work with you to tailor an accommodation solution to fit your needs.
who we work with

We work with a number of leading travel and hospitality industry partners to ensure we deliver the highest standards of professional knowledge, skill and understanding.
As a result, we have been accredited for the excellent service we provide for our clients and guests.

Versatile workspaces

Our large multipurpose tables have all the space you need for everything from zoom-calling to impromptu dinner parties.

Home comforts

Find fully equipped kitchens, dishwashers, microwaves and everything else you could need.

Looking to stay longer?

Whether you're relocating on secondment or just an extended business trip, with discounted long stay rates, you can find a home at Cove.

Find out more
BROWSE ALL COVE PROPERTIES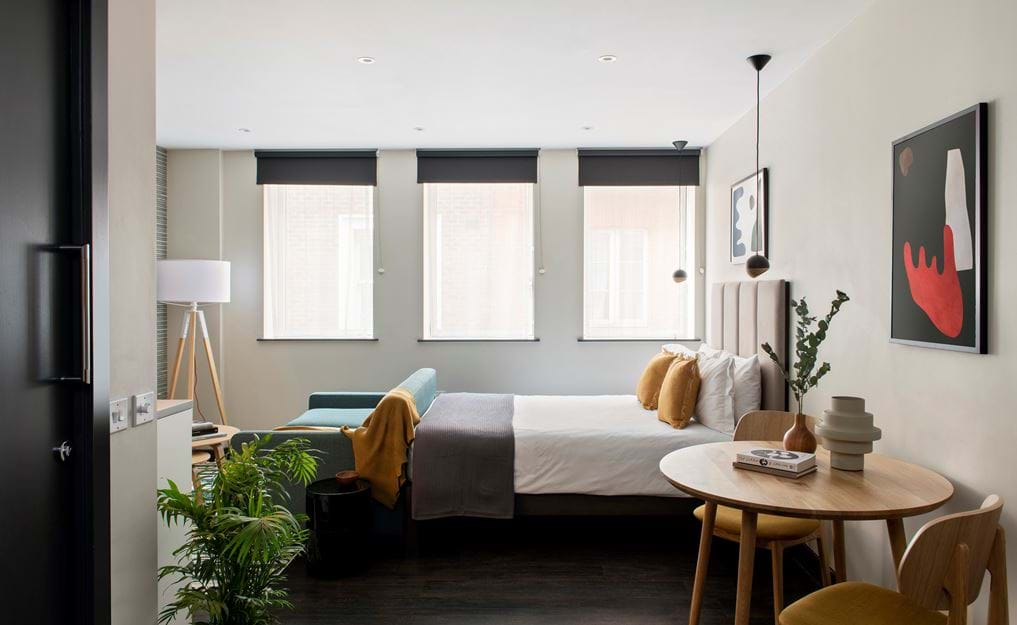 Health & safety accredited
Keeping our guests safe and healthy is important to us. At Cove we do everything we can to keep our space and yours as clean as possible. So you can rest assured you'll receive the highest standards of hygiene and cleanliness both in your apartment and the communal areas.
'Safe Place to Work and Visit' - Common Sense Compliance Accredited
We're ISAAP 'Stay with Confidence' accredited, so when you stay with us you can sleep sound knowing you're in safe hands
'We're Good To Go' - Visit Britain Accredited
Related FAQs
No we don't at the moment, but we hope to in future.
Yes, however you'll need to have access to this payment card during your stay. If this is an issue please get in touch with us through live chat.
We can't guarantee you'll be able to stay in a specific room. However, if you are staying with us long-term and have a preferred room, we will do our best to accomodate your request. Please specify which room you'd like to stay in when making a booking.