Types of Stay | Family Friendly Serviced Apartments
Our family friendly serviced apartments are designed to make life work for you and the kids
FAMILY ACCOMODATION WITH A PLACE FOR EVERYONE
We know travelling with the family in tow isn't always easy. Our family-friendly serviced apartments offer a home away from home, with all the comforts, and more. Living areas, fully-equipped kitchens, and our signature sofas that effortlessly unfold to make room for the kids, so your apartment will have plenty of room for real life. You'll even be able to pick up cots, high chairs and more (property dependent).
Quiet time

We understand sometimes all you need is some peace and quiet. So, we've got superfast Wifi and Smart TV's to keep the kids quiet and entertained.

Room for more

Families need space. With spacious one, two and three bedroom apartments there's enough room for the whole family and sofa beds for the rest.

Staying in?

Our apartments come with full-size kitchens. Hobs, ovens and dishwashers, perfect for family dinners or entertaining the kids.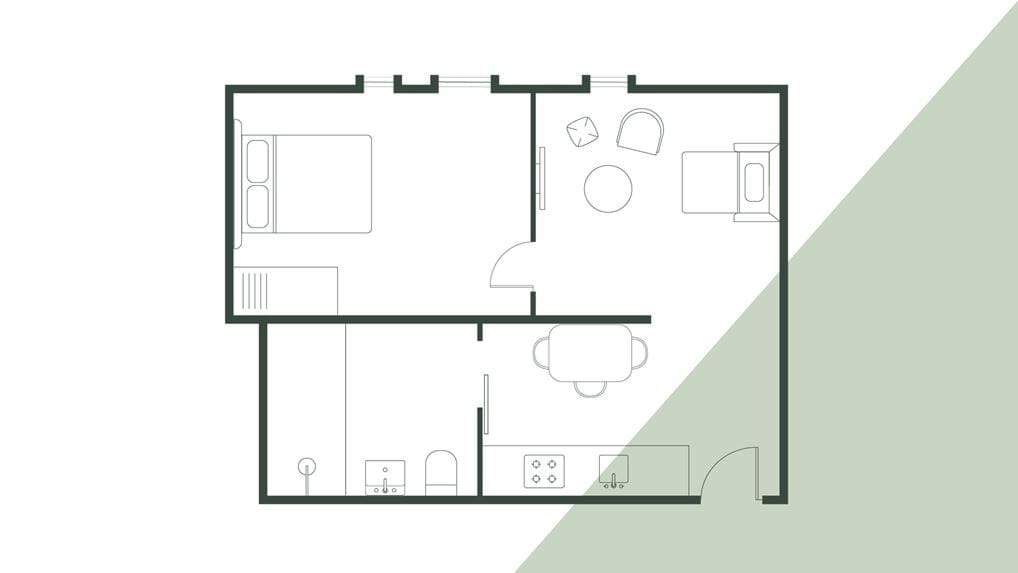 WHICH APARTMENT TYPE IS RIGHT FOR YOUR FAMILY?
Our one, two and three bedroom apartments are ideal are ideal for families, though they vary in size and shape by property. If you have a child under three, you'll be able to request a cot free of charge. And our apartments with sofa beds are ideal for sleeping an extra head.
BROWSE ALL COVE PROPERTIES
Related FAQs
Our apartments are well equipped for families, with amenities including:
- Fully equipped kitchens
- Sofa beds (in select apartments) are available across all of our Cove properties apart from Cove Centrum, The Hague.
- Washing facilities
- Storage space
- Separate living and sleeping spaces
Additional provisions vary depending on our locations, and are subject to request. Cots and high chairs are available at all locations.
Cove - Cannon Street: High chairs, travel cots, fitted sheets for cots, water colouring books
Cove - West India House: Travel cots
Cove - Landmark Pinnacle: Travel cots, matresses for cots, fitted sheets, high chairs and kids cutlery
Cove - Minshull Street: Travel cots, high chairs, baby baths, children's books
Cove - Paradise Street: Travel cots, fitted sheets, colouring books
Cove - St Martin's: Travel cots and fitted sheets
Cove apartments come in a range of sizes to cater for your individual family needs, all being spacious with kitchens and separate living space - so you won't feel like you're living on top of eachother.
If you're staying with a child, we recommend booking one of our Studios or One Bedroom Apartments with a Sofa Bed, which are a great value option for small families.
Some of our locations also have Two Bedroom and Three Bedroom Apartments which are ideal for larger families who need a little more privacy.
Head to our family friendly apartment page here for more information on staying with kids.
Children under 3 stay for are able to stay for free (providing they don't need a full-size bed). Please let us know when booking and we will make sure there is a cot in your room if required.
Note that children over 3 are chargeable at the same rate as an adult guest.
As standard, we require that there is at least one person aged 18 or over travelling with any child who will be residing in the same apartment or in an interconnecting room.
One a case-by-case basis, guests under 18 may be permitted to stay, if there has been a prior agreement made in writing directly with the property. Get in touch if you'd like to discuss.
LOOKING TO STAY LONGER?
Discover our extended stay rates, and make Cove your home away from home.