Explore the quirks and cobbles of London's historical Covent Garden, knowing you're just a stroll from your bed. With one and three bedroom apartments, you'll be welcomed by contemporary interiors and a carefully considered space. Next door, The Yards offers plenty of opportunities for you-time.
Live efficiently

Make a home in central London with a full-size kitchen, your own washer-dryer, and plenty of space to unpack.

Work comfortably

Spread out at the large table and connect to our free, privately secured Wi-Fi – this is WFH with a difference.

Sleep peacefully

Get that great-sleep feeling with blackout blinds and crisp linen on your king-size bed, plus a sofa-bed for guests.
Stay central

At home in the heart of Covent Garden

Self-check in

There's no reception at St Martin's – instead, enjoy seamless self check-in

Kitchens

Fully-equipped kitchen with washer-dryer and dishwasher

WiFi

Free, privately secured WiFi

Distinct spaces

Separate bedroom, kitchen, lounge and bathroom in every apartment

Workspace

Large multi-purpose kitchen table or dedicated workspace
Apartments
For life in all modes
If you're after space in Covent Garden, St. Martin's apartments have it. Choose from a roomy one bedroom up to a huge, 127m² three bedroom penthouse.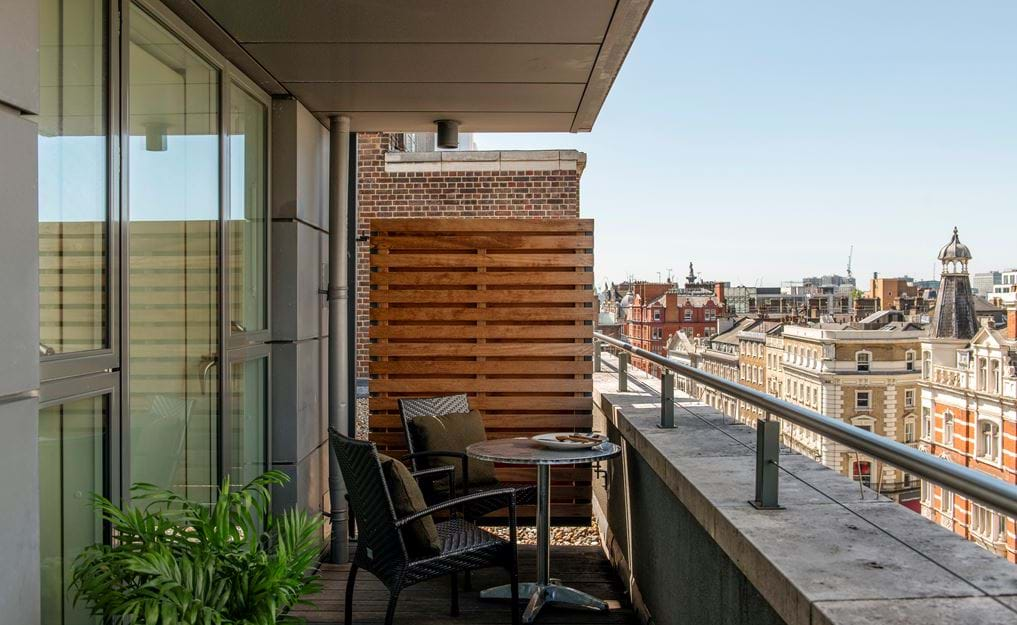 YOUR
NEIGHBOUrHOOD: covent garden
Step out your door into The Yards, a vibrant lifestyle destination. Surrounding Covent Garden is as quaint as it is quirky, with high-street stores alongside designer boutiques and street food vendors pitched next to high-end restaurants. Soho, Chinatown, Theatreland and the Southbank are nearby.
settle in
Admire famous works of art at the National Gallery

Only a stone's throw from Covent Garden, the gallery flanks Trafalgar Square and exhibits masters including Van Gough, Monet, Holbein, and Turner.

For leisure

Educate yourself at the London Transport Museum

Packed with 200 years of history, including the first underground steam-powered engine you can get inside, it's a surprisingly interesting day out.

For leisure

Enjoy home-style food at Bill's

Missing home comforts? Bill's offers cozy interiors filled with antiques and a menu full of food that feels like a hug.

For living

Get a dose of culture at the Royal Opera House

Aside from the stunning building itself, the Royal Opera House is home to world-renowned shows and the classiest atmosphere you'll ever come across.

For leisure

Get loved up at London's most romantic restaurant

With its glass roof for stargazing and beautiful, foliage-covered ceiling, eating at French restaurant Clos Maggiore feels like being in a fairytale.

For living

Get your head down at WeWork

Need a change of scene to get the juices flowing? Aldwych House features oversized windows and an amazing roof terrace.

For working

Feast yourself at Dishoom

Whether you want breakfast, lunch or dinner, Dishoom serves it Bombay-style. Prepare to order more than you intended.

For living

Head to a theatre show in London's famous West End

Every show that's any show appears in the West End, so there's something for everyone. But be sure to book, because tickets are in hot demand.

For leisure

Jog, stroll, or relax in St James' Park

Enjoy views of the lake from St James' Café, watch the resident pelicans or take a well-deserved snooze in a deckchair.

For leisure

Pay a visit to the original Monmouth Coffee Shop

For coffee lovers, a walk down Monmouth Street is something of a pilgrimage. Enjoy an expertly brewed cup, or pick up fragrant beans to take home.

For living

Pick up souvenirs at Covent Garden Apple Market

Bursting with stalls selling handmade curiosities and tempting treats, it's the place to go if you're looking for something a little different.

For leisure

Take a break from the city in The Phoenix Garden

Hidden behind the Phoenix Theatre on Charing Cross Road, this surprising oasis is full with roses, daisies, banana palms, dragonflies, and even frogs.

For leisure

Take the time to admire the street performers

Covent Garden has been a hub for street entertainment since the 17th century. Check out the headliners between 6pm and 8pm – and don't forget to tip!

For leisure

Treat your tastebuds at Seven Dials Market

Shop for fresh, local produce in Cucumber Alley, or take your pick from a mouth-watering selection of street food traders in Banana Warehouse.

For leisure

Work out at Gym BOX

Just 30 seconds' walk from your apartment, this gym has a reputation for creating truly unique workout experiences and a nightclub vibe.

For living
Covent Garden Underground Station

3-minute walk

0.1 miles

The Apple Market, Covent Garden

4-minute walk

0.2 miles

NCP Covent Garden

6-minute walk

0.3 miles

Charing Cross

8-minute walk

0.4 miles

Heathrow Airport

50-minute drive

16 miles
Find another place to call home